World Food Day is one day which should be cherished and upheld by all foodies across the globe. Established to commemorate the setting up of the United Nations' Food and Agriculture Organization in the year 1945, World Food Day is celebrated on the 16th of October every year. If you've been looking for a bonafide reason to let loose the pent-up foodie in you, here's cause for celebration! This World Food Day, go on an expedition to any of these foodie cities and blissfully watch your diet go for a toss!
1. Delhi
The National Capital is a food lover's Mecca with the sheer variety of delicacies available here, right from the famed chole bhature and kebabs at Chandni Chowk to butter chicken at the landmark Moti Mahal, Daryaganj. At the former, you will also be swept away with the tantalizing aromas of aloo parathas, crispy jalebis and nahari. If you're looking for scrumptious street eats, try golgappas at the first vendor you come across! Another go-to place in Delhi for binge eating is Karol Bagh, which is famous for chicken changezi with khamiri roti and phirni at Changezi Chicken Restaurant and chicken malai tikka at Ganesh Restaurant. The kulfi falooda at Roshan Di Kulfi also gives a heavenly experience! Paharganj, near New Delhi Railway Station, offers an eclectic mix of cuisines across its narrow alleys, right from the chole bhature at Sita Ram Diwan Chand to biryani at Satyam Rooftop Restaurant and Sam's Café which is unarguably the most famous dining hotspot in Paharganj. Even Safdarjung has favourites like Rajinder Da Dhaba (the makhmali fish tikka and tandoori starters here are to die for).
2. Kolkata
The City of Joy will bowl you over with its culinary prowess! Bengalis are really passionate about their food and it shows, right from the melt-in-the-mouth phuchkas to some of the most unique fish curries you will ever sample in the country! Go crazy with the choicest Hilsa, Bekti and Prawn preparations and indulge your sweet tooth with the finest rosogolla and mishti doi. A variety of street food in Kolkata can be sampled at the commercial hub of Park Street (city's food street) and Dalhousie including Mughlai paratha, fish fry and lots more! The dum aloo puchka in the Vivekananda Park neighbourhood and mutton kabiraji cutlet at the Mitra Café establishment are urban legends along with the mutton stew at Golbari Hotel and the prawn cutlets at Allen Restaurant. In the by-lanes of Tiretta Bazaar and Tangra, you can relish Tibetan and mouth-watering Chinese as well.
3. Mumbai
Mumbai, over the years, has acquired a certain cosmopolitan palate, much like its population. Right from the authentic Maharashtrian and Parsi cuisine to Gujarati delights, there's something for everyone in Mumbai. You'll find some of the best street food here; the iconic vada pav, pav bhaji, panipuri, dahi puri and bhelpuri are to die for! Even the sev puri is something you shouldn't miss out on! Other must-try local food items in Mumbai are Bombil fry, falooda, modaks and sandwiches. Take a walk-through Crawford Market and try the famous kheema pav at Gulshan-e-Iran or the white biryani at Bhendi Bazaar's Noor Mohmmadi. If you're in the mood for a traditional snack, try the delicious bun maska and mawa samosa at Merwan's along Grant Road. Pratap Da Dhaba is famous for its vodka panipuri while Kobe's at Girgaum Chowpatty offers you ultimate sizzlers. Café Noorani on Tardeo Road is famous for its tandoori chicken and you should not miss out on the ice-cream sandwiches and biscuits at Churchgate's K. Rustom.
4. Hyderabad
Give your belly a royal treat with the best seekh kebabs, chakhna and haleem in Hyderabad. The City of Pearls is also famous for its biryani which is aromatic, spicy and simply irresistible! In fact, you can find some of the best Ramadan delicacies here in Hyderabad. You'll find a delightful culinary fusion of Arabic, Mughlai and even Telugu influences. The kachche gosht ki biryani, Hyderabadi marag and paaya will land you in 7th heaven for sure! Gachibowli has its famous Sardarji's Chaat, where you can sample the famous dahi bhalla, papdi chaat and samosa. Go crazy at Rajasthani jalebi and namkeens near the iconic Charminar. The street food havens of Pragati Gully, Tank Bund and Sindhi Colony will give you a taste of lip-smacking Hyderabadi local food. Madina is where you should go for the best Mughlai cuisine.
5. Goa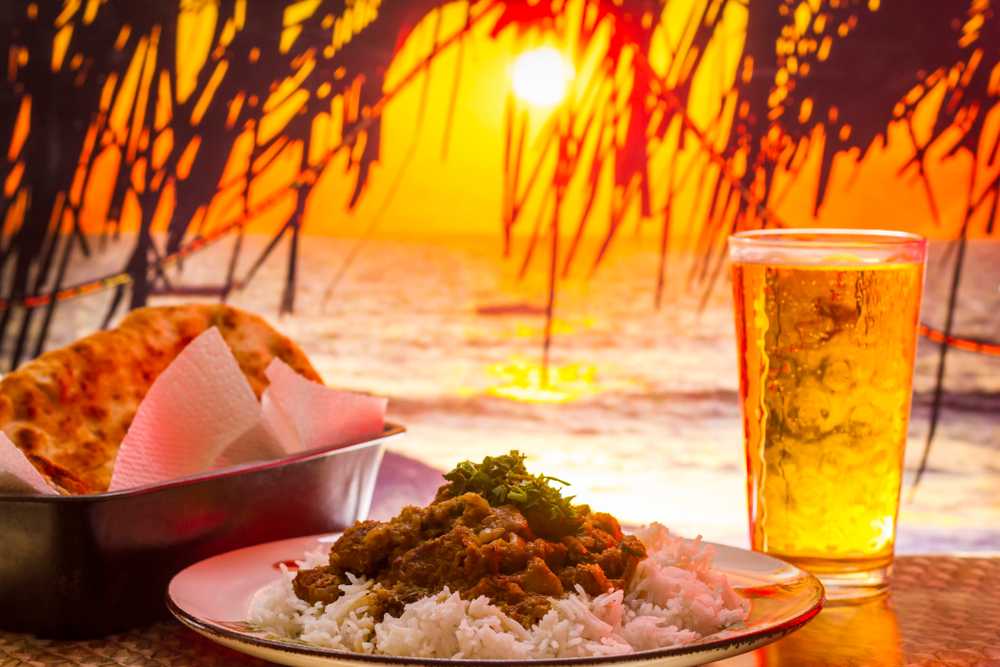 Goa is not just about the gushing waves, quaint shacks and unlimited partying; there's a whole treasure trove of gastronomic delights to be discovered here! Hog on the tempting prawn curries and seafood delights like lobsters, salmon, mussels, tuna and mackerel. The more adventurous ones can even feast on jumbo-sized crab fries. Try Pousada which is a more secluded place away from the main beach in Calangute. You will certainly love the aroma and flavour of local ingredients used in a variety of beef, prawn and other meat dishes. The balchao is a must try and makes use of fresh toddy vinegar while the caldin or stew with vegetables is also tempting. La Plage on Ashvem Beach serves some amazing treats including beef carpaccio and sesame-grilled tuna while Anjuna's well-known Noronha's Corner offers cutlets, sausages, burgers and lots more! Try the famous chicken cafreal or grilled and spicy chicken here. Just outside the bus stand in Mapusa, the Ajit Tea Stall offers an iconic curry or xacuti. Goan cuisine is all about the effortless mélange of flavours right from chilli and coconut milk to tamarind.
6. Kochi
Authentic Kerala cuisine is like a delightful tapestry to be unveiled, one layer at a time! From heady spices to slimly sweet, there's a lot to discover in Kochi. Try the famed Kerala beef roast which is absolutely divine! If you're a vegetarian, you'll be surprised to find the array of lip-smacking treats here. Come here during Onam and it will definitely be an unforgettable experience for your taste buds! Shala Restaurant is worth a visit if you want to try the delicious local fare prepared by housewives. Kingfish steak and Malabar prawn curry are major specialities at this Fort Kochi address. At Fort Kochi, you can also sample the legendary Kayee's Rahmathullah Hotel's biryani. This is perhaps the best biryani that you will find in Kerala and the wait here is worth it! Fish biryani is offered on Fridays while Tuesdays are for prawn biryanis. Mutton and chicken are available on all the other days. The Grand Pavilion in Ernakulam is another must-visit for finding authentic Kerala specialities and Syrian cuisine. Try the Karimeen Pollichathu or fried pear spot fish here. You should round off your trail with a journey to the Kashi Art Café which offers fabulous western dishes and breakfasts and the ambience itself is worth taking in.
7. Banaras ( Varanasi)
Banaras is your go-to destination for bingeing on street food and chaat. Right from the acclaimed malaiyo and ghee-laced baati to the simmering achari murgh and chicken tikka, Banaras is a land of mystical surprises and this is reflected in its diverse culinary treats as well. Try baati chokha on Puran Das Road where you can relish delightful dals and roasted chickpeas along with the sattu parathas and litti chokhas. You will also love the Deena Chat Bhandar at Dashaswmedh Ghat Road which offers a special palak chaat and tamatar chaat. Gulp down magical lassis at Blue Lassi Shop, Kachowari Gali Chowk or feast on malaiyyos at Neelkanth. Ram Bhandar, Thatheri Bazaar also has hot, steaming kachoris that you will love pairing with the perfectly cooked chickpeas subzi and jalebi.
8. Rajasthan
Rajasthan is a land full of enchanting stories from the past and while you're at it, why not savour local delights like daal-baati-choorma and kadhi? If you're in the mood to indulge, try the laal maas or the gatte. Sweet lovers will find solace in the flavoursome, pure desi ghee gujia, ghevar and balushahi that have successfully entrapped foodies down the ages! Handi Restaurant on MI Road (opposite the GPO) is one of the best places to savour lal maas while daal-baati-choorma can be enjoyed at Udaipur's Krishna Dal Bati Restro or Jaipur's Daal Baati Churma Restaurant. For satiating your sweet tooth, Paharia, Kishangarh, is definitely a must-visit!