Golden Triangle! The sudden whisper of these words immediately takes us to the royal world of Mughals and Maharajas! This world consists of spectacular forts, magnanimous palaces, the world's best monuments, the majestic minarets and what not! Tourists from across the world have been thronging the Golden Triangle, comprising Delhi, Agra, and Jaipur, to get a glance of royal and rich India.
This Christmas, we too decided to explore the beauty of the Golden Triangle, as it was a long weekend, and friends from different zones of the world had gathered in Delhi. All of us wanted to explore the majestic might of India, and hence we all zeroed on the Golden Triangle.
We started our tour from 'Dilli'. The marvellous attractions of the city left us mesmerized and speechless. The magnanimous and grandeur forts and buildings created unforgettable imprints on our minds. Out of all the monuments we visited, 10 of them left an ever-memorable picture in our minds and here I share these destinations with you to ensure that you never give them a miss.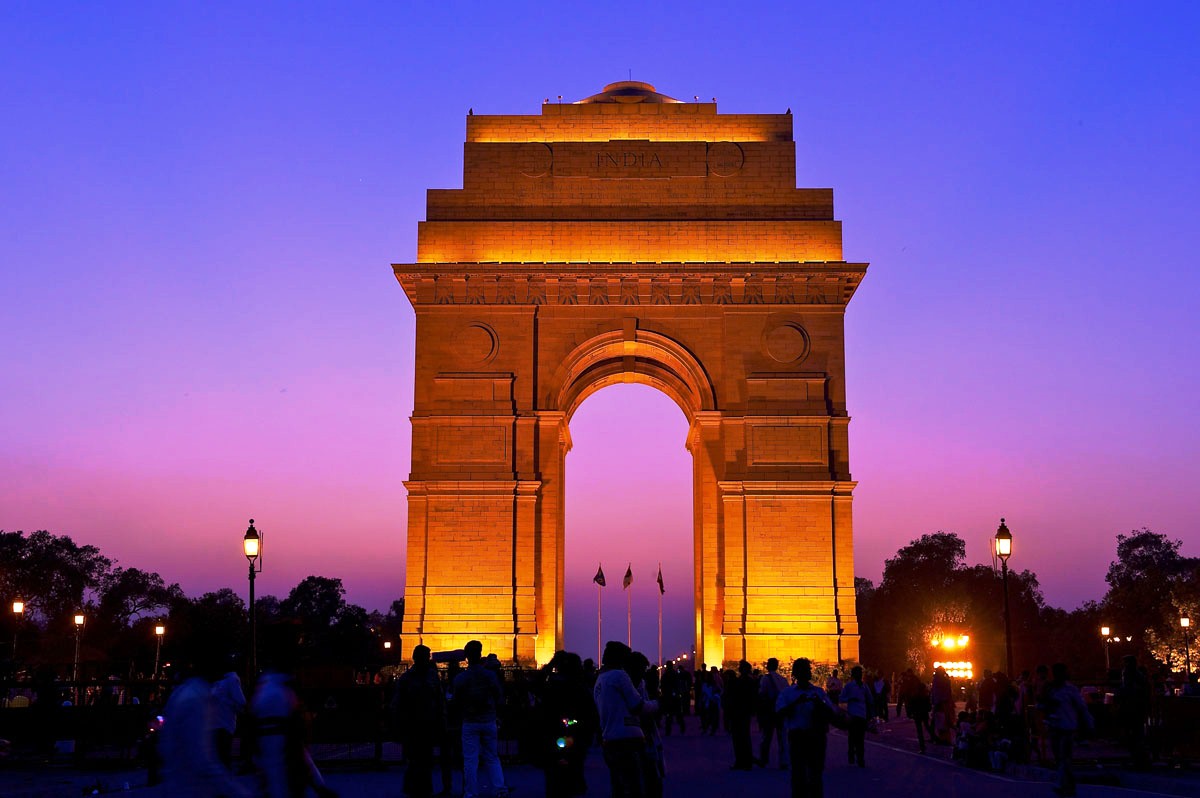 India Gate: Our head was held high when we all stood up to look at the arch of the India Gate. It stands tall at 42 meters in height. Situated in opposite premises of the Yamuna River, this patriotic monument was designed by Sir Edwin Lutyen. On looking at the names of over 90000 soldiers inscribed on it, a strong patriotic feel went deep into our heart and we bowed our heads as a mark of respect to those who sacrificed their lives for their nation.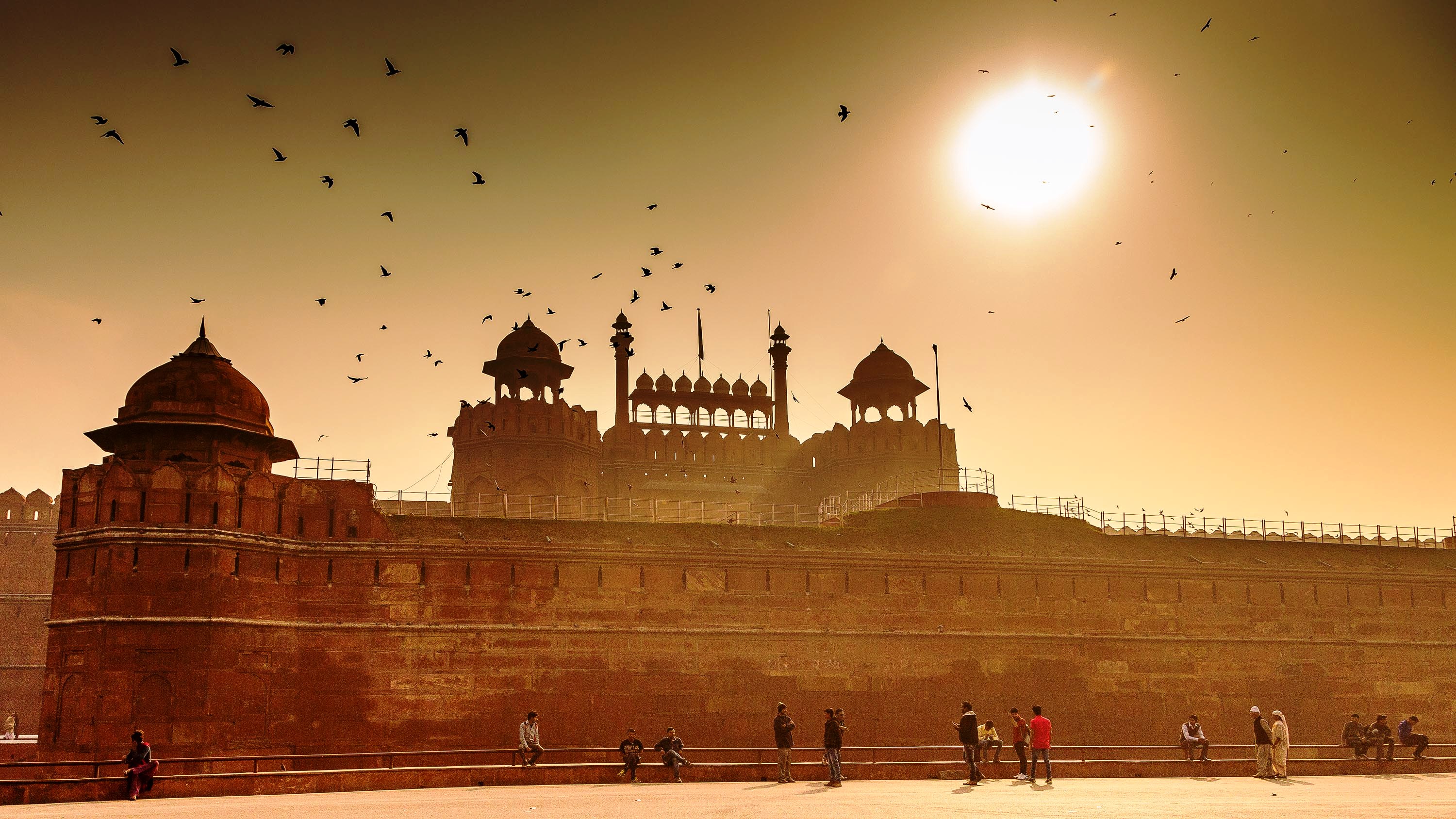 Red Fort: The brilliant Mughal architecture in the Red Fort or Lal Quilla left us bedazzled. It seemed as if the entire Mughal era is still alive as we crossed the well-carved corridors of the Fort. Red Fort, no doubt, is a standing testimony to the magnificent power and pomp of the Mughal emperors.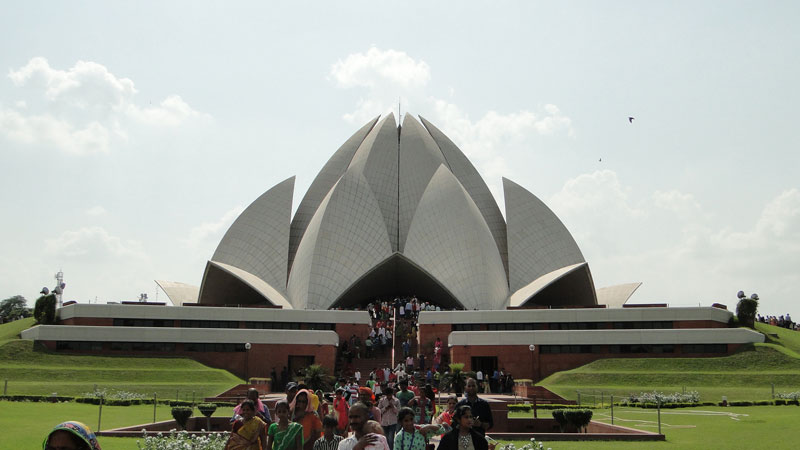 Lotus Temple: The next building to leave us speechless was the magnificent Lotus Temple. The flower-shaped Bahai temple was a marvel in terms of its design. There were blooming petals and around them were nine pools of water, which were glittering in natural light. They looked spectacular at dusk under floodlights.
While we were wondering why the architect Furiburz Sabha chose the lotus as the symbol, our guide informed us that Lotus was common to Hinduism, Buddhism, Bahai Temple, Jainism, and Islam. And hence it was chosen as its symbol.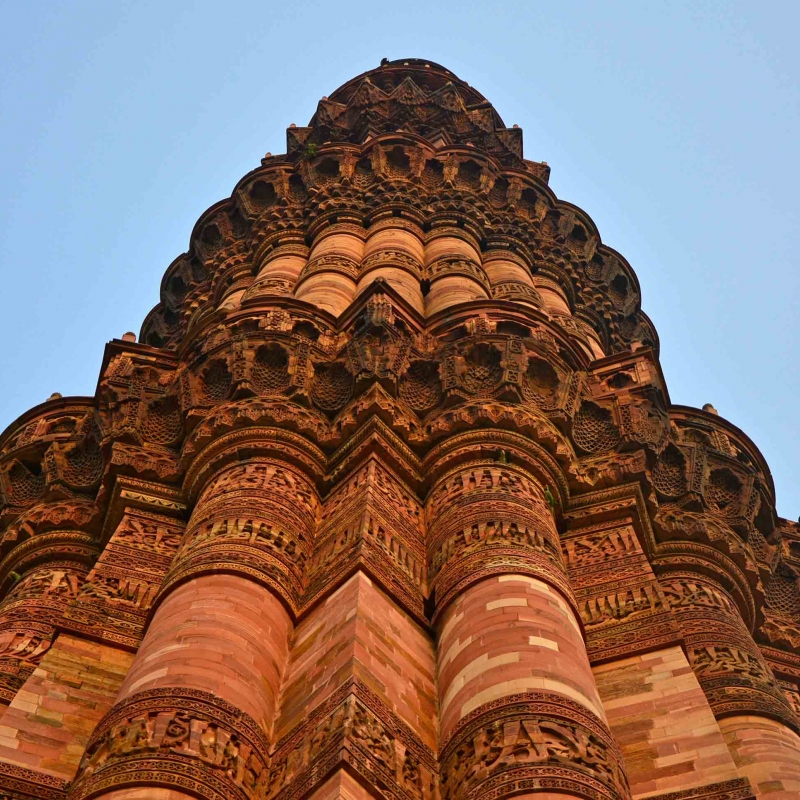 Qutub Minar: This 73 m-high tower made our neck go stiff, as for a few minutes, we literally were looking up, stunned, to see yet another marvel of the world. This tower is also called as the tower of victory. When Qutubuddin Aibak was crowned the king, he wanted to celebrate the victory of Islam and the fall of the Hindu empire. So he built this tower to establish the supremacy of Islam over the Hindu monarchy.
With five storeys in its fold, this Minar speaks of history as to how its foundation was laid by Qutubuddin Aibak in 1193 and then it was completed by Illtutmish and then Firoz Shah Tughluq in 1368. While the first three storeys are made up of red stone, the fourth and fifth storeys are of marble and sandstone.
Taj Mahal: The very first sight of the Taj Mahal, the epitome of love and romance in Agra, left us mesmerized and perpetually enthralled. We soon realized that the love behind the construction of this outstanding monument has given life to it and describing its beauty is beyond any scope of words.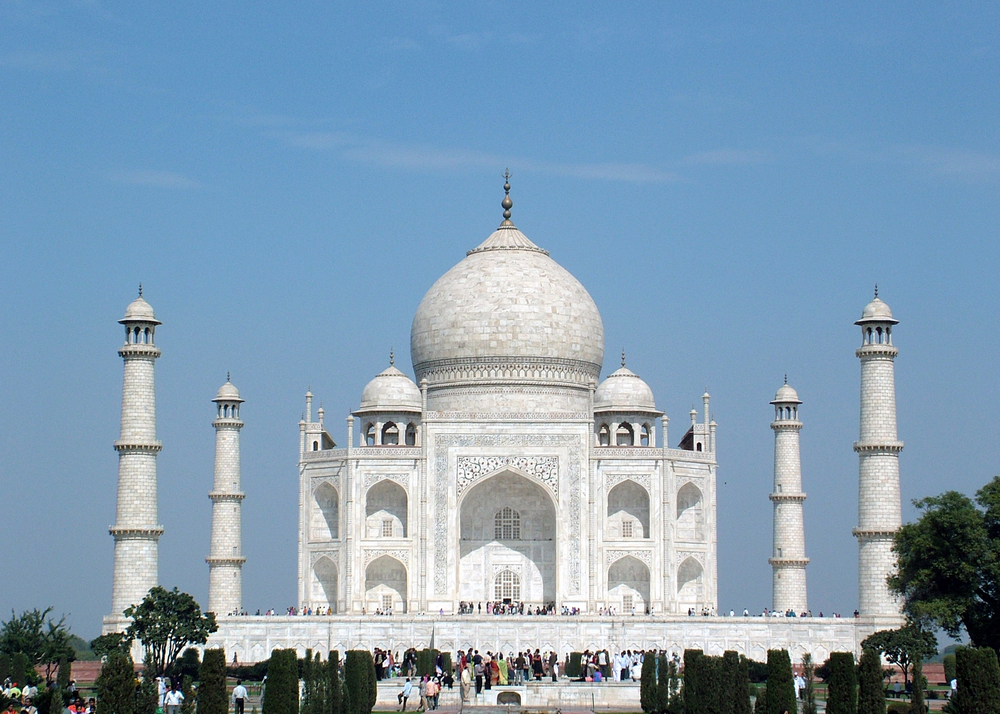 It seemed as if this splendid tomb, which stood in silence, has an unsung saga that remains unspoken till date. Undoubtedly, its pristine white marbles, the exquisite ornamentation, beautiful carving, and picturesque location make it one amongst the seven wonders of the world. And yes, there is another credential to this monument. It is a UNESCO World Heritage Site!
Agra Red Fort: Another Red Fort? This question came up in our minds when our guide took us to this palatial building. However, he specified that this is the 'Agra Red Fort', which again enjoys the tag of UNESCO World Heritage.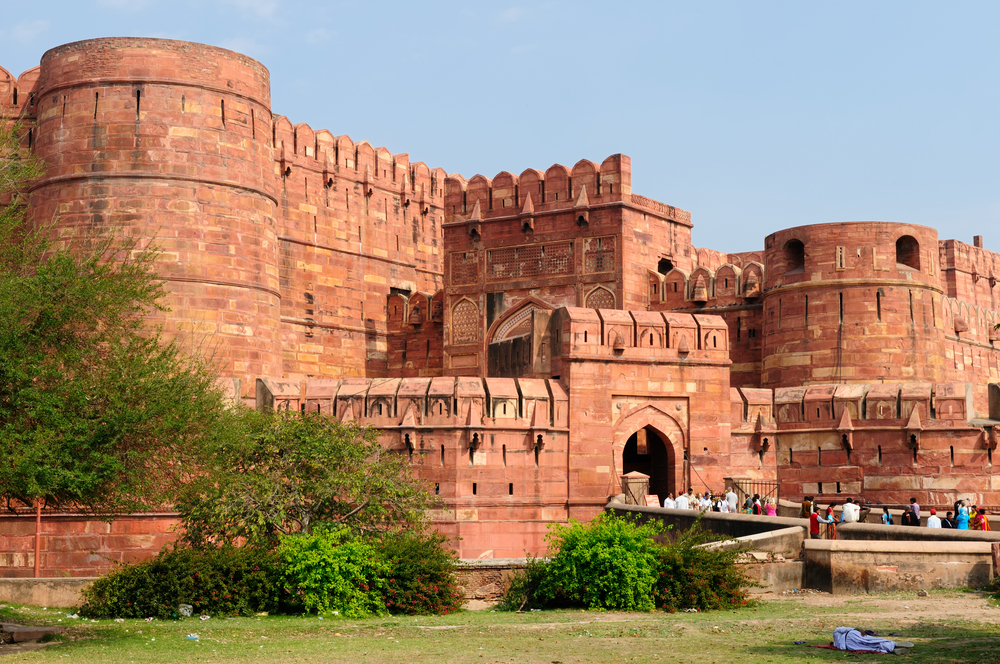 Situated at about 2.5 km northwest of the Taj, the fort contains splendid palaces, both in red sandstone and white marble. There were a series of exquisite structures that left us bedazzled with its eternal beauty. The Sheesh Mahal, The Diwan-I-Khas, the Anguri Bagh, Nagina Masjid, etc were a few royal buildings which had geometrically arranged lush gardens, glass palaces, gem mosque, etc.
Hawa Mahal: A glimpse into Hawa Mahal or Palace of winds in Jaipur bedazzled us with its royal beauty. The delicately honeycombed hive rising to a dizzying five storeys with its exquisite architecture made us wonder how skilled the workers of that era could be.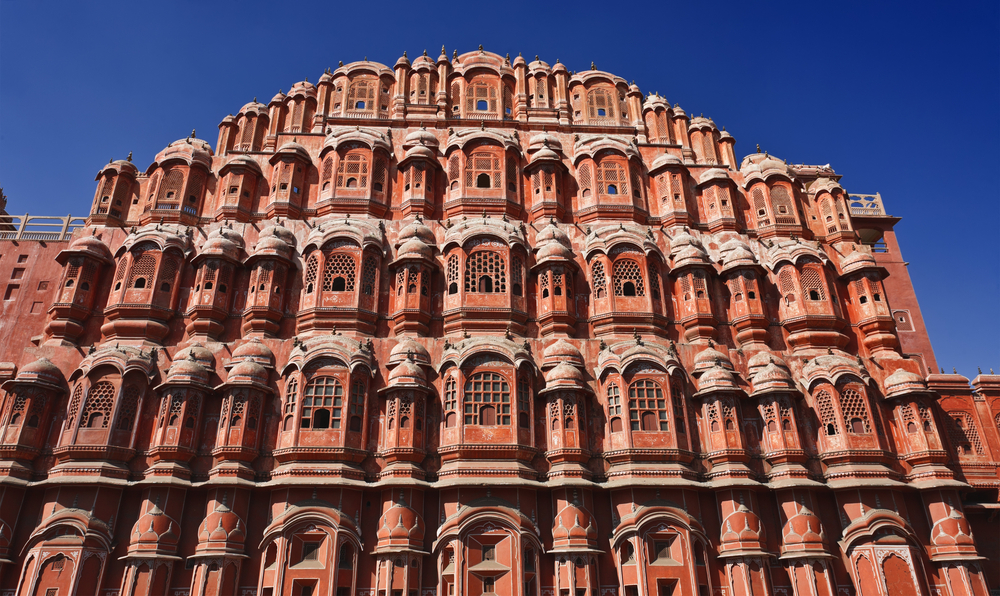 Amer Palace: A fabulous example of hill architecture, this Palace left us breathless and bedazzled with its rich and royal design. Built by Raja Man Sing in the 16th century, the Fort houses many amazing monuments within, such as the 'Sheesh Mahal', 'Diwan-i-Aam' and 'Sukh Mahal'. The fort is a ten-minute walk uphill and believe me, this trek was worth the million wonders that it offered.
Jal Mahal: As Amer Fort delighted our senses with its majestic glory, it simultaneously made us feel a little tired. Now we were on a lookout for something serene and splendid which could rejuvenate us. And on our way back, we stopped at the beautiful Jal Mahal. This low-rise symmetrical palace appears to float in the centre of Sagar Lake. The tranquil waters gave a soothing feel and we felt afresh again.
While returning from Jaipur to Delhi, we were mystified thinking about mysteries of the Mughal era, were appalled thinking of the majestic times of Maharajas and were wandering if those days did ever go? The erstwhile era continues to be alive and agile because the legacies they had left have never allowed it to go anywhere!
Author Bio: Archana Sharma is a freelance writer who is passionate about her profession. Travelling is something that excites her. She has been in the creative field for over 15 years and has been writing for print media and digital media.