Yoga is synonymous with India. The holistic science of health and wellness is centuries old and has evolved to suit the needs of the modern day. People from all walks of life choose yoga as the ultimate secret of rejuvenating the body, mind and soul. In the current scenario, post-COVID vacations means getting away from cities and breathe in the pure bliss of nature. And this is where, wellness vacations come into play. Yoga retreats are calling with ancient healing techniques amid nature's bliss. India abounds in yoga retreats where one can learn yoga. Whether it's a simple ashram experience or luxury getaway, here are our handpicked options.
ANANDA IN THE HIMALAYAS, RISHIKESH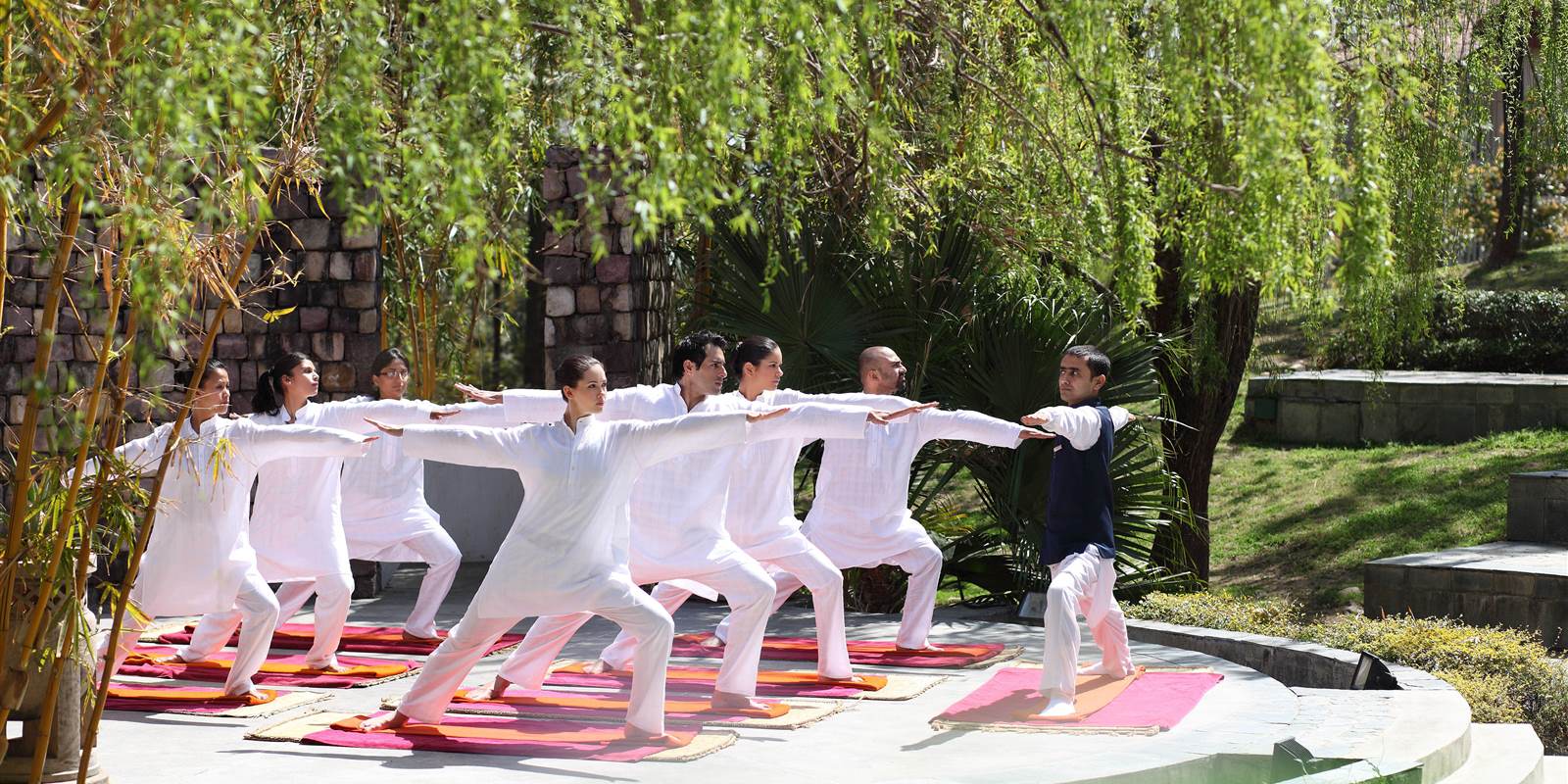 The palace turned yoga oasis, Ananda in the Himalayas is among one of the best wellness retreats in India. The resort offers daily yoga programme, special diets, and other therapies that heal the body, mind and soul. Besides the healing daily schedule, the luxurious suites overlook tranquil vistas of the lush green hills and valleys. A short drive from the holy towns of Haridwar and Rishikesh, the resort offers respite from chaotic lifestyle. The perfect post-COVID vacation awaits in the pictorial retreat.
WILDFLOWER HALL, SHIMLA

Nestled in the Himalayas, the Wildflower Hall offers a holiday of many unforgetable experiences. Enjoying yawning views across the soaring peaks of India's dramatic Himalayas, the resort offers .
THE OBEROI SUKHVILAS RESORT & SPA, CHANDIGARH

With legendary Ayurvedic guru Dr Robert Svoboda facilitating occasional three-day wellness programmes alongside The Oberoi Sukhvilas' already well-stocked spa and yoga menu, this is a holistic retreat that certainly knows how to tailor an exclusive experience.
THE HAVELI HARI GANGA, HARIDWAR
Dodge the crowds thronging around Haridwar's holy Har Ki Pauri ghat and sink into The Haveli Hari Ganga's private bathing area instead. It's said that a dip in the Ganges rinses away negative karma. Morning yoga is instructed in a serene studio adjacent to the holy currents, with a havan, or fire blessing, to follow.
DEWA RETREAT, RISHIKESH
A swimming pool in Rishikesh is worth its weight in crystal malas, and Dewa Retreat's is flanked by the exceedingly popular Pure Soul café, offering precious raw cacao-based and maca-laced delicacies. Perched above the Ganges, views from the rooms' private balconies are spectacular, and if the in-house yoga classes aren't up to scratch, there are plenty more to choose from in the surrounding ashrams.
RAAS JODHPUR
Early risers can stretch out in Raas Jodhpur's rooftop Baradari restaurant for a sunrise sequence overlooking Rajasthan's iconic 15th-century Mehrangarh Fort. Follow with an invigorating Prana Vitality massage treatment in the hotel's supremely indulgent Ila Spa.
THE LEELA PALACE, UDAIPUR
The Leela Palace's five-day Sojourn into Self programme offers a heady tasting menu of holistic treatments served up at its in-house ESPA—the largest in India. Add in a Vedic astrology reading, daily yoga and blessings at the local Shiva temple, and this is ascetism of a highly decadent order.
THE OBEROI UDAIVILAS, UDAIPUR
Sun salutations facing the sparkling Lake Pichola as dawn lights the horizon is a spiritual experience worth photographing. Chase a morning class with a dip in the infinity pool gazing out the distant throb and pulse of Udaipur.
RAAS DEVIGARH, DELWARA
An elegant 18th-century palace near Udaipur, Raas Devigarh serves up an imaginative menu of guided yoga and meditation practices compellingly seasoned with incense, essential oils, sound healing and cranial holds.
SIDDHARTH YOG SEVA ASHRAM, VARANASI
Varanasi is one of India's holiest pilgrimage sites and, with its soaring temperatures and burning ghats, one of its most arresting. Yoga offers a welcome respite, and classes on Yogi Siddharth's Ganges-facing terrace are one of the most peaceful experiences you're likely to have at this frenetic destination. That is, if the resident monkeys don't interfere!
HILTON SHILLIM ESTATE RETREAT & SPA, PUNE
With soaring views across Maharashtra's rugged mountains, Hilton Shillim Estate Retreat & Spa's 70 forested acres are worlds away from the hustle of Pune. The yoga pavilion and meditation cave make good use of the hotel's scenic location, with bicycles and hiking trails inviting a full immersion in the surrounding nature.
TAJ EXOTICA RESORT & SPA, GOA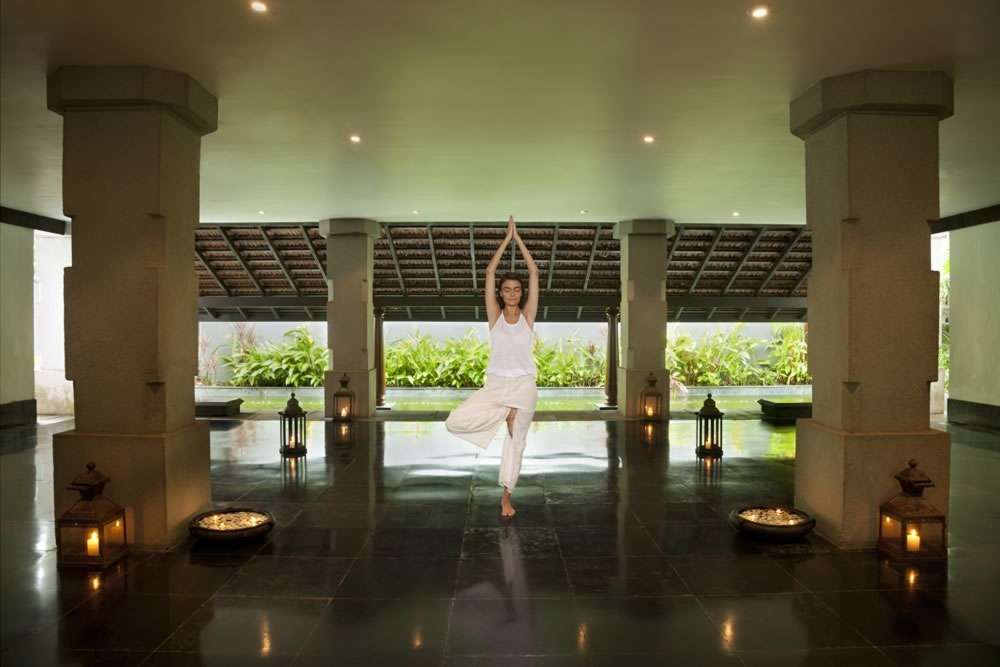 Sink into Goa time on Benaulim Beach in the quieter south, where the on-demand yoga menu stretches to whatever appeals, from a gentle session tailored to beginners to a challenging set for more experienced practitioners.
SWASWARA CGH EARTH, GOKARNA

Draw away from the opulence of SwaSwara for a moment to meditate in its private hilltop meditation perch. With sprawling views across the aptly named Om Beach, this is where an open-eyed meditation practice comes into its own.
SHREYAS, BENGALURU
With its 25 acres cast in dappled shade by day and lit by the flicker of candle lamps at night, Shreyas is south India's dedicated yoga oasis. Stay in one of its 12 tasteful cottages to enjoy world-class hospitality served alongside some refreshingly skilled tuition in yoga and mindfulness.
TAJ MADIKERI RESORT & SPA, COORG
Clustered in a rainforest and sheltered by holy rudraksha trees, Taj Madikeri Resort's Jiva Spa offers Trataka—candle-gazing to relieve anxiety—and a sublime 50-minutes of Yoga Nidra—sleeping yoga—alongside its selection of dynamic or gentle asana classes.
CARNOUSTIE AYURVEDA & WELLNESS RESORT, KERALA
Panchakarma—an intense revitalising Ayurvedic cleanse—is especially popular at the luxury beachside Carnoustie Ayurveda & Wellness Resort. With rigorous daily massage treatments, delicious dosha (body type)-specific Indian fare and morning yoga and pranayama (breathwork) by the sea, it's easy to see why.
MARARI BEACH, KERALA
There are plenty of places to flop in the verdant 12 acres of Marari Beach's sumptuous resort: in a hammock beneath the palm trees; on a sun-lounger gazing out at the Arabian Sea; and, of course, on a yoga mat, the waves harmonising with your ujjayi breath.
NEELESHWAR HERMITAGE, KERALA
The most pressing decision at the sumptuous Neeleshwar Hermitage on Malabar's sighing coast is whether to practice morning yoga with Anil in the shore-facing yoga hall or receive training in Transcendental Meditation with Alistair on the beach. Or both?
NIRAAMAYA RETREATS SURYA SAMUDRA, KERALA
Perched atop a dramatic cliff above Kovalam Beach, days at Niraamaya Retreats Surya Samudra slide by with hypnotic serenity. Punctuate them with yoga: an invigorating session at sunrise gazing out at the Arabian Sea, and a soothing restorative class as the sun sinks beneath the horizon.
SOMATHEERAM AYURVEDIC HEALTH RESORT, KERALA
This is a place that takes its Ayurveda very seriously, with skilled doctors and a fastidious team of therapists set on restoring burnt-out city types. The sprawling oceanic views from the yoga terrace at Somatheeram Ayurvedic Health Resort's hill perch certainly complement the artful instruction.
TAJ BEKAL RESORT & SPA, KERALA
The refreshingly extensive yoga menu at Taj Bekal Resort & Spa includes a restorative session designed to smooth out the ruffles of jet lag. Follow it with a calming class in mantra meditation before stretching out with a chilled coconut water on Kappil Beach in Kerala's tranquil north.