"Older than history, older than tradition, older even than legend, And looks twice as old as all of them put together." This is how renowned author Mark Twain describes Varanasi.
The city is a divine destination enveloped by serenity, spirituality, and sanctity. You can have a glimpse into several splendid views all at one time and one place in Varanasi.
Surrounded by mystic mysteries of spiritualism, wrapped around by Ganges flow and hidden under several untold stories, this ancient city, for years, has been wooing people from across the globe. The ethnically carved temples narrate the tale of the ancient era in one of the oldest cities in the world. Varanasi gives a direct reflection into the ancient Hindu culture. The spiritually enriching experience is absolutely breathtaking in this city.
Let's discuss a few things that are must-to-do when in Varanasi.
1. Discover a new world of spirituality by attending Ganga Aarti
Ganga Aarti! It seems something special remains hidden within the core of Aarti at the ghats. As the Ganges water flows in the river, the ghats echo with the sounds of aarti bells. The reverberating sounds match its tune with the rhythm and flow of river water. While some people stand with folded hands, others float diyas and candles in water. It seems as if the entire dimension of spiritualism has come to one place. The mystical aura looks pristine and the serene surroundings sooth each and everyone present there.
2. Explore Varanasi on foot to get into age-old Kashi
Walking on foot in thin lanes of Varanasi takes you to the old world of Kashi. These lanes transcend into old buildings giving a quick glance into the then ancient city which still maintains the old-world charm. The experience of walking along with all kinds of stray animals like cows, goats, buffalos and even zigzagging bicycles is ultimate.
Each scene in these lanes takes you back in the ancient era and you are closer to the city's cultures and traditions. Most of these narrow gallis run parallel to ghats and hence one can never get lost in this ancient city. The then Kashi is always a treat to the eye for those who love visiting the historical chapters.
3. Take a boat ride watching sunset/ sunrise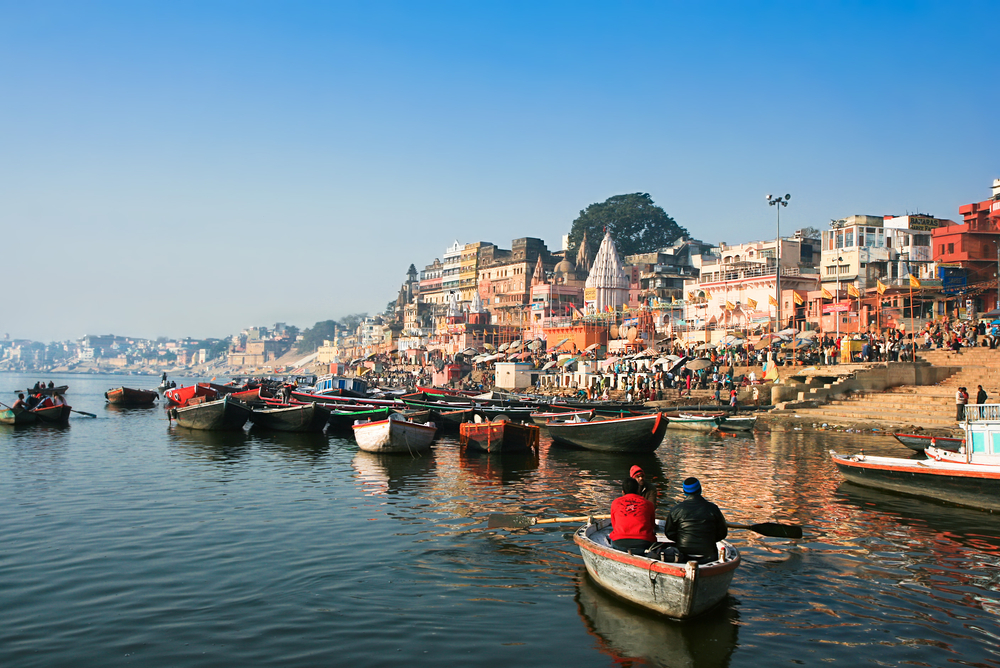 A boat ride in early morning hours introduces you to an altogether newer world. There are captivating and colourful ghats around the Ganges water which give you a glimpse of the ancient era. The serene and calm waters flowing alongside the boat and the clear sky on top of the river give heavenly experience. While you travel from one ghat to another, there is a new story to be explored each time, which mostly remains untold and unheard, hidden under the waters of the Ganges.
4. Indulge in shopping spree in Varanasi:
If you are a shopping freak, then Varanasi is a place to b for you. It's more like a heaven for those loving to shop. Silk Saris of Bananas have already made a mark across the world. Once upon a time, they had silver and gold work, but now the exquisite designs and colour combinations have turned lighter and vibrant.
There is a wide range of varieties to shop from! From Banarasi sarees to brocades, from wonderful pieces of brassware to ornate jewels, from copper ware to wooden and clay toys, there are loads of goodies that can make you a shopping freak.
5. Relish your taste buds with street food in Varanasi
Varanasi is truly a foodies paradise. The mouth-watering delicacies available in the city can relish tastebuds of all those who come from different parts of the world. Banarasi pan has already done branding for its own. The lassi and tangy chaat also need a mentioning here for their ultimate taste. Many examples of food fusion could be seen on streets here. Tasting coconut banana with a cup of yoghurt is a common scene on streets. The list is unending when we talk of street food and hence this city has made a mark of its own in the list of big time foodies.
Author Bio: Archana Sharma is freelance writer who is passionate about her profession. Travelling is something that excites her. She has been in the creative field for over 15 years and has been writing for print media and digital media.