I just wanted to share something interesting that I and my Golfing buddies did last weekend. Well, it wasn't officially a long weekend, but we decided to take Friday off and do a three-day golfing trip to ...Guess where... Srinagar, Kashmir.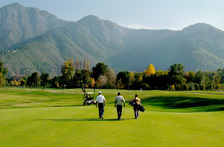 With a lot of apprehensions and skepticism, we froze on Srinigar as our destination .... and believe me, we were glad we did. The valley was just as beautiful as I had expected and remembered it to be (from my last trip 26 years ago), and the Golf far exceeded our expectations. The Royal Springs Golf Course (just off the Boulevard road and just a mile from the Lalit Grand Palace) was a delight, to say the least. Perfectly manicured and lush green fairways, punishing roughs, fast but true Greens ----- the Royal Springs Course is actually one of the best I've played on, and believe me, I've played on quite a few courses around the world. For a course of this standard, Green Fees are pegged at an acceptable level of about Usd 40 for 18 holes. Carts and Caddies are also available.
In addition to falling in love with the Golf Course there, the other important thing was, the feeling of complete safety and security while travelling in Kashmir. Fingers crossed, but the Omar Abdullah Government seems to have got its act together on security issues, and while one did see a significant amount of security forces present, we felt pretty safe and comfortable.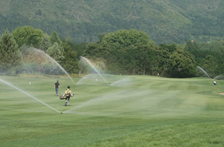 In addition to the roundtrips between the Hotel and the Golf Course, we did travel around a fair bit -- did the usual touristy thing of a Shikara(Kashmiri Gondola) Ride on the Dal Lake, visited the Mughal Gardens , and also did a trip to Gulmarg, including taking the Cable car ride up to about 3800 mtrs above sea level. The Gulmarg Golf Course, at an altitude of about 2600 mtrs, is said to be the highest green Golf course in the world. Currently being upgraded, it is supposed to reopen in the next month or two. There are of course a few telltale signs of the state has gone through hard times, but, other than that --- what the Mughal Emperor Jehangir said about Kashmir "If there is paradise anywhere on earth, it is here, it is here, it is here." seemed so true. It is breathtakingly beautiful!!!
Accommodation wise, Srinagar now as 3 good options, The Lalit Grand Palace , a wonderful 5 star Heritage Palace Hotel overlooking the Dal Lake, then there is the new 5 star Vivanta by Taj Dal View, set on a hilltop overlooking the Lake , and then, there are of course the famous Deluxe Houseboats on the Dal and Nagin Lakes. The Houseboats, while called Deluxe, are about a 3-star standard only, but are very cost-effective accommodation for those wanting to experience Kashmir on a limited budget.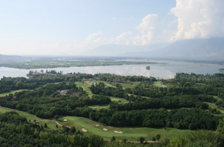 Flights to and from Srinagar, were surprisingly inexpensive, with roundtrip fares (restricted advance purchase) being available as low as Usd 100 per person. Since it was just a three-day trip, we couldn't visit Pahalgam, the third point in Kashmir's golden triangle of Srinigar, Gulmarg, and Pahalgam, but friends in the local tourism industry told us, that if we liked the Golf in Srinigar, we would love the Pahalgam Golf Course. Pahalgam, about 2 hours away from Srinigar by road, and also, an extremely scenic quaint little resort town, now has an 18 hole Championship course, which I understand is wonderful too !! On the flight back, our four balls took the unanimous decision--- that, our next golf outing would be Kashmir again !! (we all need to work for a few weeks in between though !). The attached images will give you an idea of why !!!!
The author, Kapil Goswamy is the Managing Director/CEO of Trans India Holidays , based in New Delhi,India.