Yoga is not just exercise but a way of life. The ancient science of health and wellness is centuries old but with time has evolved to suit the needs of the modern day. People from all walks of life choose yoga as the ultimate secret of rejuvenating the body, mind and soul. In the current scenario, post-COVID vacations means getting away from cities and breathe in the pure bliss of nature. India is the holy land of yoga. Yoga retreats are calling with ancient healing techniques amid nature's bliss. India abounds in yoga retreats where one can learn yoga. Whether it's a simple ashram experience or luxury getaway, here are our handpicked options.
ANANDA IN THE HIMALAYAS, RISHIKESH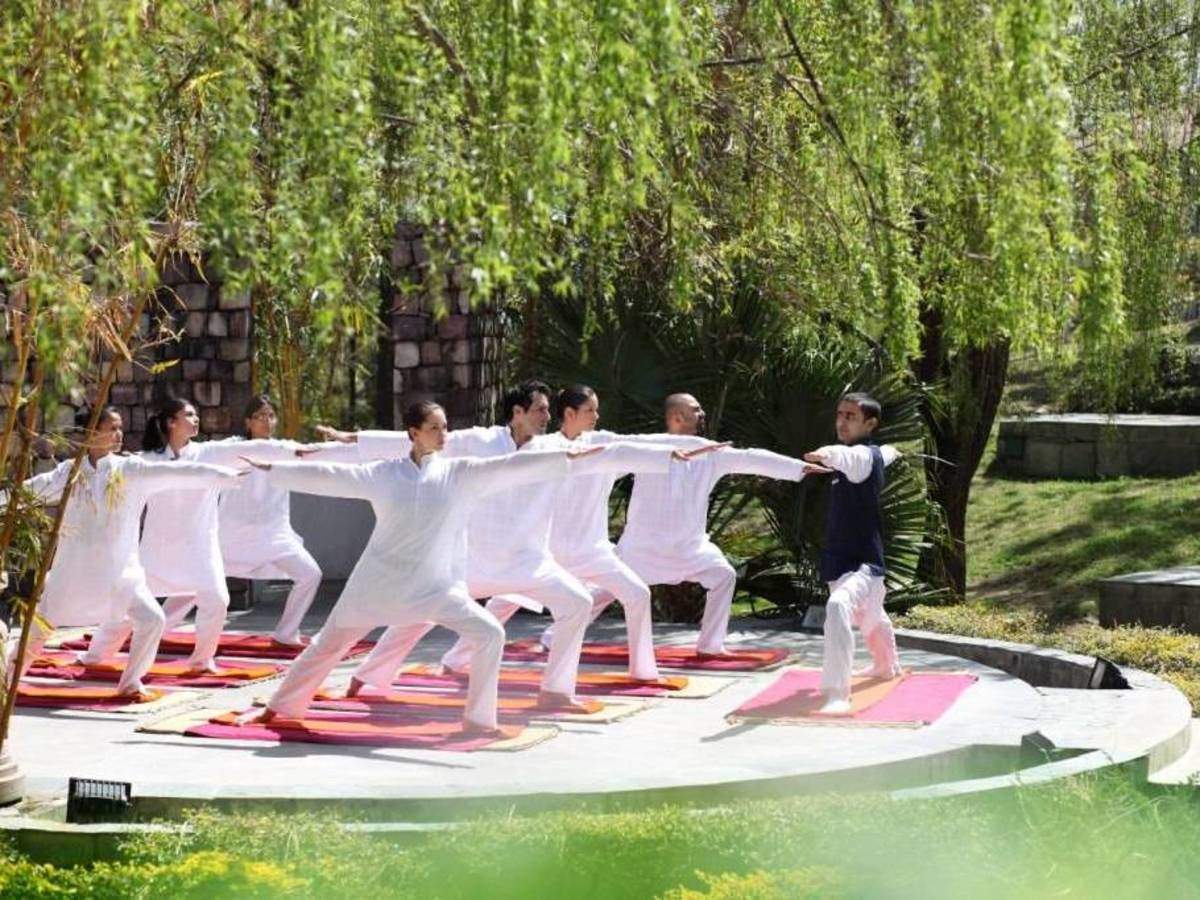 Nestled in the lap of Himalayas, the palatial Ananda in the Himalayas' is a relaxing yoga retreat. With daily yoga programmes along with customized diets and a host of amenities, the resort enjoys tranquil vistas. Equipped with luxurious Garden Suites, there's a temptation to simply curl up with a masala chai and enjoy the view.
THE HAVELI HARI GANGA, HARIDWAR

Dodge the crowds thronging around Haridwar's holy Har Ki Pauri ghat and sink into The Haveli Hari Ganga's private bathing area instead. It's said that a dip in the Ganges rinses away negative karma. Morning yoga is instructed in a serene studio adjacent to the holy currents, with a havan, or fire blessing, to follow.
ANAND PRAKASH YOGA ASHRAM, RISHIKESH

Lotus-posed in Rishikesh's quieter Tapovan is Anand Prakash Yoga Ashram, whose 90-minute morning and evening classes are as popular with residents as they are among those who flock to its broad rooftop studio from further afield. Accommodation is spartan, but the food is sublime and the teachers are excellent.
DEWA RETREAT, RISHIKESH
A swimming pool in Rishikesh is worth its weight in crystal malas, and Dewa Retreat's is flanked by the exceedingly popular Pure Soul café, offering precious raw cacao-based and maca-laced delicacies. Perched above the Ganges, views from the rooms' private balconies are spectacular, and if the in-house yoga classes aren't up to scratch, there are plenty more to choose from in the surrounding ashrams.
THE LEELA PALACE, UDAIPUR
The Leela Palace's five-day Sojourn into Self programme offers a heady tasting menu of holistic treatments served up at its in-house ESPA—the largest in India. Add in a Vedic astrology reading, daily yoga and blessings at the local Shiva temple, and this is ascetism of a highly decadent order.
THE OBEROI UDAIVILAS, UDAIPUR
Sun salutations facing the sparkling Lake Pichola as dawn lights the horizon is a spiritual experience worth photographing. Chase a morning class with a dip in the infinity pool gazing out the distant throb and pulse of Udaipur.
SIDDHARTH YOG SEVA ASHRAM, VARANASI
Varanasi is one of India's holiest pilgrimage sites and, with its soaring temperatures and burning ghats, one of its most arresting. Yoga offers a welcome respite, and classes on Yogi Siddharth's Ganges-facing terrace are one of the most peaceful experiences you're likely to have at this frenetic destination. That is, if the resident monkeys don't interfere!
TAJ EXOTICA RESORT & SPA, GOA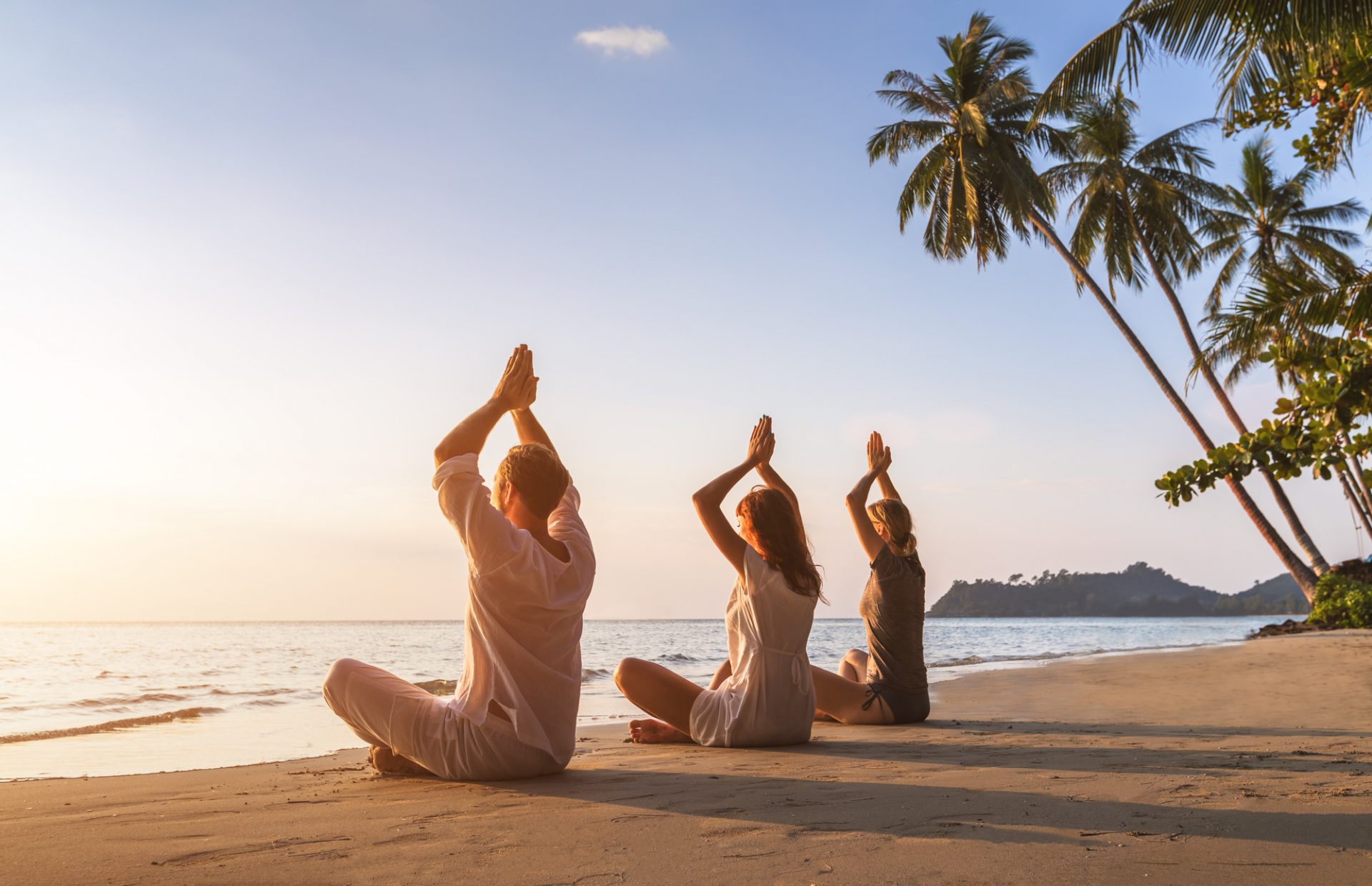 Sink into Goa time on Benaulim Beach in the quieter south, where the on-demand yoga menu stretches to whatever appeals, from a gentle session tailored to beginners to a challenging set for more experienced practitioners.
SWASWARA CGH EARTH, GOKARNA
Draw away from the opulence of SwaSwara for a moment to meditate in its private hilltop meditation perch. With sprawling views across the aptly named Om Beach, this is where an open-eyed meditation practice comes into its own.
CARNOUSTIE AYURVEDA & WELLNESS RESORT, KERALA
Panchakarma—an intense revitalising Ayurvedic cleanse—is especially popular at the luxury beachside Carnoustie Ayurveda & Wellness Resort. With rigorous daily massage treatments, delicious dosha (body type)-specific Indian fare and morning yoga and pranayama (breathwork) by the sea, it's easy to see why.
NIRAAMAYA RETREATS SURYA SAMUDRA, KERALA
Perched atop a dramatic cliff above Kovalam Beach, days at Niraamaya Retreats Surya Samudra slide by with hypnotic serenity. Punctuate them with yoga: an invigorating session at sunrise gazing out at the Arabian Sea, and a soothing restorative class as the sun sinks beneath the horizon.
SOMATHEERAM AYURVEDIC HEALTH RESORT, KERALA
This is a place that takes its Ayurveda very seriously, with skilled doctors and a fastidious team of therapists set on restoring burnt-out city types. The sprawling oceanic views from the yoga terrace at Somatheeram Ayurvedic Health Resort's hill perch certainly complement the artful instruction.
WILDFLOWER HALL, SHIMLA
It's rumoured that Hindu god—and itinerant yogi—Shiva abides in the Himalayas, so it follows that mortal practitioners take his lead. Classes at Wildflower Hall are instructed one-to-one with yawning views across the soaring peaks of India's dramatic north.