Bhutan has finally revealed its reopening date, September 23, 2022, after remaining shut to outsiders for more than two years due to the pandemic. The gorgeous Himalayan nation has been attracting travellers from across the globe for ages now. Whenever you plan a visit to Bhutan there's a lot to explore. 'The land of happiness', 'The Kingdom above the clouds', 'The land of the Thunder Dragon'… Bhutan has gained a few names over the years which is a pretty good indicator of how epic it truly is. Delve into the essence of Bhutanese beauty, culture and history. The hands-on experience in traditional textile and handicraft workshops and the close exposure of monastic life and pastoral scene, etc. offer you a perfect chance for a memorable exploration in Bhutan. Whether you've been dreaming of heading to this magical corner of the world for a while or if it has only just landed on your radar, you're in the right place. We're going to let you in on some of the absolute must-do's whilst you're in Bhutan.
1. Hike The Tiger's Nest Monastery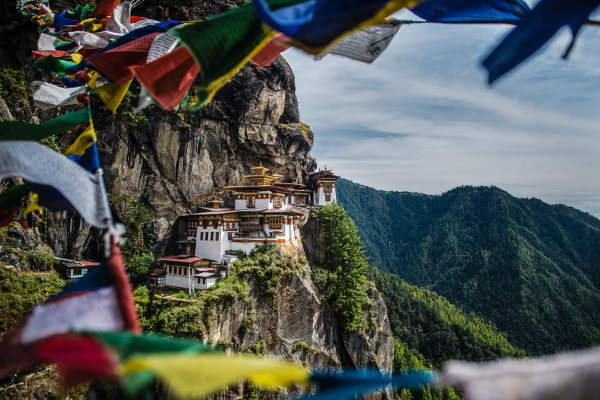 The Tiger's Nest Monastery (Paro Takstang) is in one word, extraordinary. The buildings are perched on the side of a cliff, 10,000ft above sea-level! It was built in 1692 and still functions as a monastery today with monks living on the mountain. You'll need to hike here and the trail begins just 10 miles north of Paro (a 20-minute drive).
2. Visit Punakha Dzong
Punakha Dzong is stunning. It is the second oldest and second biggest in all of Bhutan but arguably the most beautiful. It is located between two rivers and you have to cross a bridge to access it. The most interesting thing about this building? Not one nail was used to create it... not one!
3. Be in awe of Buddha Dordenma
When you see Buddha Dordenma you'll be blown away by how big it is (169ft!), but what's even more surprising is that there are 125,000 smaller buddhas inside it! With a population of around 100,000 people in Thimphu, there are more Buddhas than humans.
4. Go to a festival
There are heaps of festivals in Bhutan but two of the biggest are the Paro Tshechu in March and the Thimphu Tshechu in October. During both of these festivals, you'll see incredible traditional outfits, dance, food, and arts. It is arguably one of the best ways to witness Bhutanese culture and you'll be overwhelmed with wonder.
5. Try your hand at Archery
The national sport in Bhutan is archery, but they have been playing this sport long before it was even recognized as one (which means they're pretty good). They do things a bit differently here though, archery involves a lot of signing, dancing, food, and drink and is very much a social event.
6. Visit Tashichho-Dzong
The Tashichho-Dzong was first constructed in 1216! Since then the building has grown a lot. It houses the offices of the King, the Throne Room, and some government ministries. The Dzong is surrounded by beautiful gardens and enviably well-kept lawns, you won't be disappointed with a stroll around here.
7. The Memorial Chorten
The Memorial Chorten was designed to be 'one of the most visible religious structures in Thimphu' and reflects Tibetan style architecture. When you visit be sure to only circle the Chorten in a clockwise direction and learn all about the 3rd Dragon King on Bhutan.